Directions During Construction
Kimberly Avenue is under construction and the entrances to the church seem to change hourly. However, Fox Valley Christian Fellowship is always accessable. Whether you are coming from the east or west, it's best to take W. 3rd Street to either Roger Street or Helen Street; one or both will always be driveable.
If you cross Kimberly on Roger Street, you turn right onto W. Fulcer Avenue.

If you cross Kimberly on Helen Street, you will be going into Sunset Park, and you will turn left on W. Flucer Avenue.

Both ways have you coming in through the back of the church.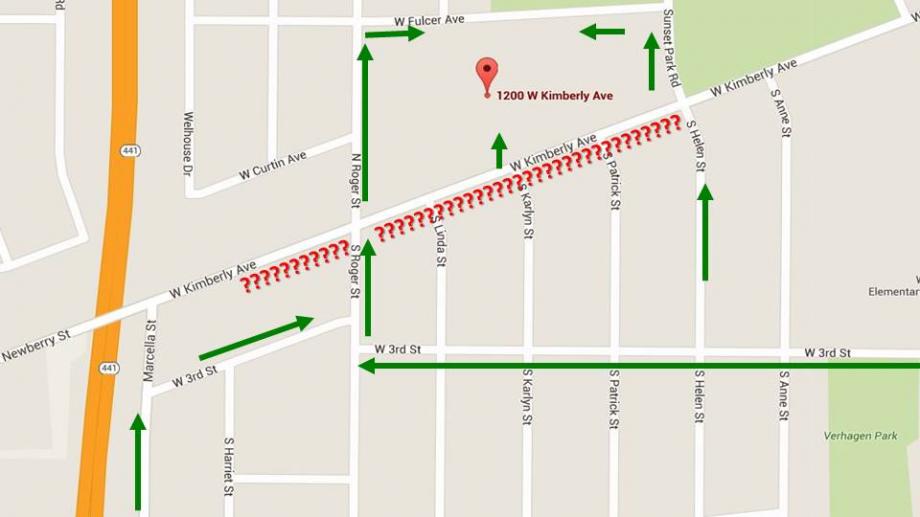 FVCF is just a short drive from anywhere in the Fox Valley. We are just a couple minutes from the 441/CE exit. We are located on Kimberly Avenue just 3 blocks east of the Highway 441 overpass. From College Ave./CE and Hwy 441 go West to N. Kensington Drive. Proceed north until the stop sign. Turn right. After traveling 1/2 mile we are on the left. If you are familiar with the northeast side of Appleton, then this map may be of assistance to you.

For detailed driving directions from a specific location using GOOGLE MAPS, click HERE.